IMPELEMENTASI NILAI PENDIDIKAN KARAKTER PERJUANGAN JENDERAL SOEDIRMAN BAGI GENERASI MUDA MASA KINI PADA MATA PELAJARAN SEJARAH
Lebda Tyas Nireki

Universitas Jambi

Anny Wahyuni

Universitas Jambi

Budi Purnomo

Universitas Jambi
Abstract
General Soedirman is one of the many national heroes of the Republic of Indonesia who has immense service in this Republic of Indonesia. From 1945-1950 he fought for the Independence of the Republic of Indonesia until he became a high ranking Indonesian officer during the Indonesian National Revolution. Even though he was gone, General Soedirman's fighting spirit and example had never been eaten by the times. Many of the influences from General Soedirman's struggle that can be imitated are felt by today's younger generations. This research uses historical research methods with a literature study approach. Where the data sources in the study come from books, documents and writings that are relevant to the subject matter of General Sudirman's struggle. The research steps include four stages, namely heuristics, verification, interpretation and historiography.
This study aims to determine: (1) Biography of Jenderal Soedirman; (2) Challenges for the struggle of General Soedirman to the Present Young Generation; (3) Synchronization of General Soedirman's Struggles with Today's Young Generation; (4) Application of General Soedirman's Struggle Attitude to Today's Young Generation.
The results of this study are (1) Background of Life: General Soedirman lives in a simple family and grows in a limited environment, but that does not make him give up easily, because of that limitation he grows to be a reliable figure. (2) General Soedirman's struggle challenges : The younger generation needs a strategy or preparation to achieve the desired goals both in learning and outside of it so that it is easier to realize what you want. (3) Synchronization of General Soedirman's Struggle: it is necessary to have tolerance to embrace one another to build the nation and the state to be even better and the need to add to the implementation of character education attitudes for the younger generation to improve behavior and morals that experience a lack of ethics and self-identity. (4) Attitude Application: Religious adherence, persistence in doing business, smart in making preparations.
This research was made with the hope that today's young generation can increase respect for national figures in Indonesia's independence, foster a sense of domestic love and can apply and imitate the attitudes of General Soedirman figures in today's life.
 Keywords: General Soedirman, Struggle, Present.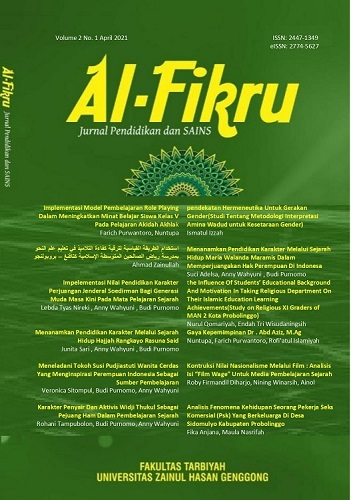 Abstract views: 148 , PDF downloads: 875