STRATEGI PENANGGULANGAN PENGANGGURAN MELALUI PERAN USAHA KECIL MENENGAH (UKM) GENTING
Karimah Karimah

STAI Miftahul Ulum Pamekasan

Ridan Muhtadi

STAI Miftahul Ulum Pamekasan

Kamali Kamali

STAI Miftahul Ulum Pamekasan
Abstract
Introduction: Roof tile business is an effort made by someone or a group, tile business is needed by the surrounding community. Because in addition to reducing the number of unemployed tile businesses, it can also improve the economy of the community, both from tile business owners or employees / workers, because in the village of gunung timur, the village of gunung the impression is difficult to be reached by the government. The purpose of this study is to determine the role of tile business on unemployment.
Methods: This research is a qualitative or field research, the data sources used are primary data and secondary data using observation, interview and documentation methods. The research site was carried out at tile SMEs located in Gunung Timur Hamlet in Gunung Kesan Village, Sokobanah District, Sampang Regency.The implementation time of this research was carried out in Januari 2021.
Results: Based on the results of research, the roof tile business has an important role in overcoming the number of unemployed and poverty rates and also increases the income of the people in the village of gunung timur, the village of gunung impression. This is evidenced by the increasing income earned so that it can meet the needs of daily life.
Keywords: Role of roof tile business, Overcoming, Unemployment.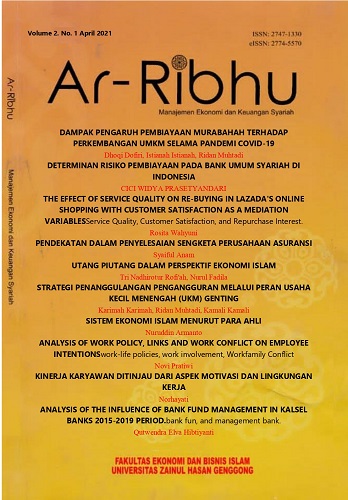 How to Cite

Karimah, K., Muhtadi, R., & Kamali, K. (2021). STRATEGI PENANGGULANGAN PENGANGGURAN MELALUI PERAN USAHA KECIL MENENGAH (UKM) GENTING. Ar-Ribhu : Jurnal Manajemen Dan Keuangan Syariah, 2(1), 107-131. Retrieved from https://ejournal.unzah.ac.id/index.php/arribhu/article/view/550

Abstract views: 135 , PDF downloads: 182