ANALYSIS OF THE INFLUENCE OF BANK FUND MANAGEMENT IN KALSEL BANKS 2015-2019 PERIOD.
bank fun, and management bank.
Qutwendra Elva Hibtiyanti

Ahmad Dahlan University, Yogyakarta
Abstract
This study aims to analyze the management of funds at the Bank of South Kalimantan for the period 2015 to 2019, namely to find out how to determine the amount of funds needed to support the operational activities of the Bank of South Kalimantan as well as the methods of collecting funds carried out by the Bank of South Kalimantan. In this study, the data source used was the annual report of the South Kalimantan Bank for the period 2015-2019. This research resulted in the Bank of South Kalimantan determining the funds needed to support bank operational activities based on Government Regulations, Minimum Bank Provision Requirement (KPMM), bank operational area, liquidity requirements owned, and the quality level of assets. Meanwhile for good bank fundraising policy Bank of South Kalimantan in accordance with the policy direction of the Regional Champion Program which consists of 3 main pillars, namely (1) improving and protecting bank defense (2) serving as regional development agents and (3) increasing expertise in providing services to communities in the regions.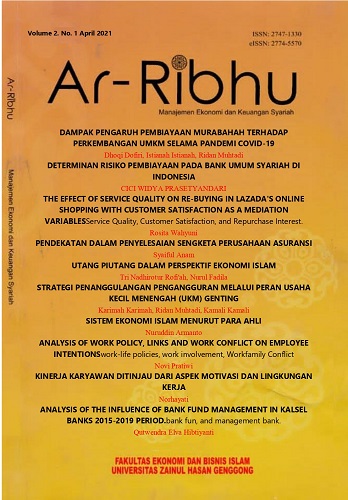 How to Cite

Qutwendra Elva Hibtiyanti. (2021). ANALYSIS OF THE INFLUENCE OF BANK FUND MANAGEMENT IN KALSEL BANKS 2015-2019 PERIOD. Ar-Ribhu : Jurnal Manajemen Dan Keuangan Syariah, 2(1), 188-202. Retrieved from https://ejournal.unzah.ac.id/index.php/arribhu/article/view/555

Abstract views: 21 , PDF downloads: 7